HexEditor
Description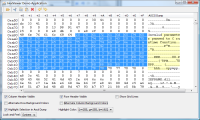 HexEditor
is a hex editor component, written in Swing. Its feature set includes:
Cut, copy, paste, delete
Undo/redo
Input validation
It is released under a
BSD-style license
.
Try It Out
Changes
03/13/2011
Added ability to listen for selections in the hex editor, and made low bytes ("0"-"f") padded with a leading zero ("00"-"ff"). This is an option and can be toggled. Thanks to PAX for the patches!
02/13/2011
Zombie application!
Fixed a bug when pasting bytes into an empty (0-byte) editor
12/6/2008
Fixed a bug in toggling the row header at runtime.
Fixed a bug in navigating with the down arrow key when the bottom row of the table is full.
08/10/2008
The HexEditor component now fires property change events whenever certain properties are changed.
You can now register yourself as a "HexEditorListener" to be notified when and how the contents of the hex editor are modified.
08/05/2008
Select the modified text on undo/redo operations.